Don't you just love that mesmerizing scent of cannabis? Do You want to find out where it comes from and how it is beneficial? Let's learn about what cannabis terpenes are and what they actually do!

Interestingly enough, terpenes can be found in many plants such as pine, lavender, hops, mint, rosemary, or even fresh orange peel. More than that – even some species of insects can produce terpenes! Even though terpenes are clearly associated with many organisms that have a distinctive and rich smell – due to recent hype on cannabis health benefits, they are most commonly associated and analyzed from "found in a cannabis plant" perspective.
Terpenes are chemicals that determine how natural things smell. Terpenes determine citrus fruit aroma. Terpenes give pine trees their unique rich smell. Terpenes bring soothing effects of lavender. This means that terpenes not only bring all the smell but also – work in sync with other compounds found in plants, to enhance certain effects.

The age-old simple way of classifying cannabis strains by Sativa and Indica effect types might be gone soon as the world start to slowly understand how things are way much more complex than we believed in the past. Terpenes, when combined with cannabinoids – can change the effects and overall profile of the smoking experience significantly. We are still on a long journey to fully understand how this works, but we already have theories like The Entourage Effect that helps us explain why different terpene and cannabinoid compositions result in different "high".
Some terpenes can promote relaxation and stress-relief, others can help you focus and even make you more energized. Myrcene (also found in hops) is an earthy-spicy-musky that comes with a mildly sweet profile is mostly found in relaxing cannabis strains. On the other hand, Terpinolene (also found in apples, cumin, pine trees, and more) that has a citrusy-floral-pine aroma is most commonly found in energetic and uplifting cannabis strains.

This means, that because most cannabis strains we grow today are hybrids and vary in their taste, smell, and chemical composition widely… The future of cannabis classification will most likely be very different from what it is today! Gone will be the days of unreliable sativa/indica classification – we will determine the effects of cannabis plants based on their unique chemical compositions, thus the actual effects certain strains should bring to the table.
This might not happen as soon as real cannabis enthusiasts might want it, because analyzing, understanding, and proving "genetic" cannabis compositions according to their effect pallets will be a long journey for the cannabis industry.
By just understanding how flavors and scents of cannabis can be more directly connected to their effect types than any other trait of the plant is, we are already getting closer to using cannabis in a more precise, medical, and beneficial way. Spread this knowledge with your fellow stoners and start looking for taste/smell and effect patterns along the way!
Even though cannabis science is still on its way to uncover how exactly terpene-cannabinoids can be used to actually heal us, here we provide you with a list of what smells to look for which cannabis effects. There are more than 100 different terpenes, so we will focus only on most common and dominant in cannabis strains.

Aroma: Herbal, Earthy, Cloves
Vaporizes at: ~167°C (311°F)
Found in: Mango, Lemongrass, Hops, Thyme
Most common strains: Trainwreck, Amnesia, Grandaddy Purple, Purple Urkle, OG Kush
About Myrcene: Myrcene is probably the most common terpene in all the cannabis plants. Most contemporary cannabis strains have over 20% of their terpene composition filled with this one terpene.
Furthermore, if we are talking about dominant terpenes – Myrcene is one of the most commonly dominant terpenes in a cannabis plant.
Myrcene Effects: Myrcene is one of the most calming terpenes there is. Think sedative, muscle relaxant, pain relief cannabis strains that can also have anti-inflammatory benefits. Basically, the more couchlock – the more likely Myrcene is a dominant terpene in the composition.

Aroma: Spicy, Woody, Cloves, Pepper (funky "warmth" to the nose)
Vaporizes at: ~130°C (266°F)
Found in: Black pepper, Cloves, Cinnamon, Basil, Oregano
Most common strains: Fire OG, Sour Diesel, Bubba Kush, Girl Scout Cookies, Gelato, Cookies and Cream, Chemdog
About Caryophyllene: Second most common terpene in cannabis plants is Caryophyllene. The most interesting fact about this terpene is that it is the only terpene that can act as a cannabinoid. It has a unique ability to bind our CB2 receptors, which makes this terpene very interesting from a medical perspective. It also has a significantly bigger molecule than most other terpenes on the list.
Caryophyllene Effects: Caryophyllene is believed to have a huge therapeutic potential, especially when helping to fight addictions. Caryophyllene also has shown to have anti-inflammatory and antioxidant properties, as well as it could be a great way to treat anxiety and depression. There is even some research indicating that this terpene could potentially help humanity with lifespan longevity as it might reduce gene stress.

Aroma: Citrus, Fruity
Vaporizes at: ~176°C (348°F)
Found in: Lemon, Orange, Mint, Rosemary, Grapefruit, Juniper
Most common strains: Do-Si-Dos, Fire OG, Wedding Cake, Strawberry Banana, Lemon Haze
About Limonene: Third most common terpene found in cannabis is Limonene. Because this terpene is most commonly found in citrus fruit it is wrongly believed that cannabis strains rich with Limonene have to smell like citrus. Because Limonene rich cannabis strains can have less than 2% of its composition filled with this beneficial terpene, the actual aroma of cannabis can differ – but still focus on the berry/fruity side of the spectrum.
Limonene Effects: Even though we understand very little of how actually this terpene works – Limonene already has shown real scientific evidence that this might be one of the most effective anti-tumor and anti-cancer cannabis terpenes there is. It also increases serotonin and dopamine levels in key regions of the brain, which makes it a valuable agent against anxiety, depression, and OCD. Limonene can elevate your mood, lower stress levels as well as improve absorption of other terpenes and chemical compounds. Lastly, Limonene can have antifungal and antibacterial properties.

Aroma: Pine
Vaporizes at: ~155°C (311°F)
Found in: Dill, Parsley, Rosemary, Pine, Eucalyptus and many other plants
Most common strains: Harlequin, Blue Dream, Cannatonic, Grape Ape, Cotton Candy Kush, Critical Mass, White Widow
About Pinene: Most common terpene in the world that can be found in thousands of other plants. Cannabis plants with dominant-pinene terpene composition will most likely smell foresty and have that distinct pine aroma.
Pinene Effects: Pinene is believed to be responsible for anti-anxiety and pain relief effects in most cannabis plants. As well as being anti-inflammatory terpene, it also helps to open airways (bronchodilator), while having another unique feature – Pinene can possibly be a solution for short-term memory impairment that is associated with daily THC use.

Aroma: Woody, Earthy, Subtle Spicy, Floral-Herbal
Vaporizes at: ~106°C (122°F)
Found in: Hops, Coriander, Cloves, Basil, Wood
Most common strains: Girl Scout Cookies, Glue, Headband, Candyland, Jack Herer
About Humulene: Humulene shows up in smaller amounts in most cannabis compositions when compared to terpenes already discussed on this list, but this terpene is usually responsible for more subtle notes when it comes to floral and earthy notes. This terpene is quite well researched and is one of the most important compounds in most cannabis-related therapeutic remedies.
Humulene Effects: It is believed, that Humulene is one of the most important terpenes when trying to fight tumors, especially when combined with phytocannabinoids and some other terpenes. It is also considered to have unique antibacterial properties, meaning it is anti-inflammatory and antifungal. Furthermore, when talking about cannabis plant cultivation – Humulene is helping cannabis flowers to defend themselves against pests and fungal infestations.

Aroma: Floral
Vaporizes at: ~198°C (388°F)
Found in: Lavender, Birch Bark, Rosewood, Mint, Cinamon, Corriander
Most common strains: Do-Si-Dos, Zkittlezz, Lavender, Fire OG
About Linalool: So many different plants around the world produce Linalool for a very basic reason – Linalool is highly anti-microbial. This is why many plants that have high levels of Linalool usually fall under some sort of therapeutic use. Its unique way of interacting with the brain makes Linalool a potential treating agent for Alzheimer's disease.
Linalool Effects: Most traditional medicine practices use Linalool for its sedative and anti-epileptic properties. There also medical trials that are bringing evidence that Linalool can potentially reduce anxiety and lower other depression-related behaviors. This means Linalool allows users not to lose hope in high-stress situations, while also helping immune systems to be more resilient to the destructive effects of stress. To top of the list – Linalool can also have muscle-relaxing, pain-relieving, it even can help solve addiction-related problems.

Aroma: Sweet, Fruity
Vaporizes at: ~50°C (122°F)
Found in: Orchids, Mint, Parsley, Mango, Lavender
Most common strains: Green Crack, Golden Pineapple, Sour Diesel, OG Kush, Golden Goat
About Ocimene: Ocimene is a very popular terpene in the perfume industry for one single characteristic – it smells sweet and floral which allows it to make plentiful of pleasant aromas. Many cannabis strains that will have that super-sweet aroma will have Ocimene terpene as one of the dominant terpenes.
Ocimene Effects: Besides being the sweet smell indicator, it is believed that Ocimene might be effective against diabetes, as well as being an anti-inflammatory and an effective anti-oxidant.

Aroma: Floral, Herbal, Pine
Vaporizes at: ~50°C (122°F)
Found in: Lilacs, Cumin, Apples, Nutmeg, Tea Tree,
Most common strains: Super Lemon Haze, Pineapple Kush, Jack Herer, Orange Cookie, Ghost Train Haze, Golden Pineapple
About Terpinolene: Terpinolene has a weird and unique feature – so far it's not common to find it in CBD rich strain, which makes this terpene a perfect research tool for many breeders. This terpene is very widely used as an additive to soaps and cleaning products.
Terpinolene Effects: There are scientific studies suggesting that Terpinolene might potentially reduce the risk of heart disease, furthermore it might even slow down the growth of cancer cells. All these claims are waiting to be proven, but don't forget that terpenes work in combination with cannabinoids and other terpenes for the best results.
It might be, that our subconscious bodies know better than us what we need and what might help us heal (or relax) – that's why the old suggestion to just pick weed according to the smell you like might be much more scientifically accurate than we could ever think.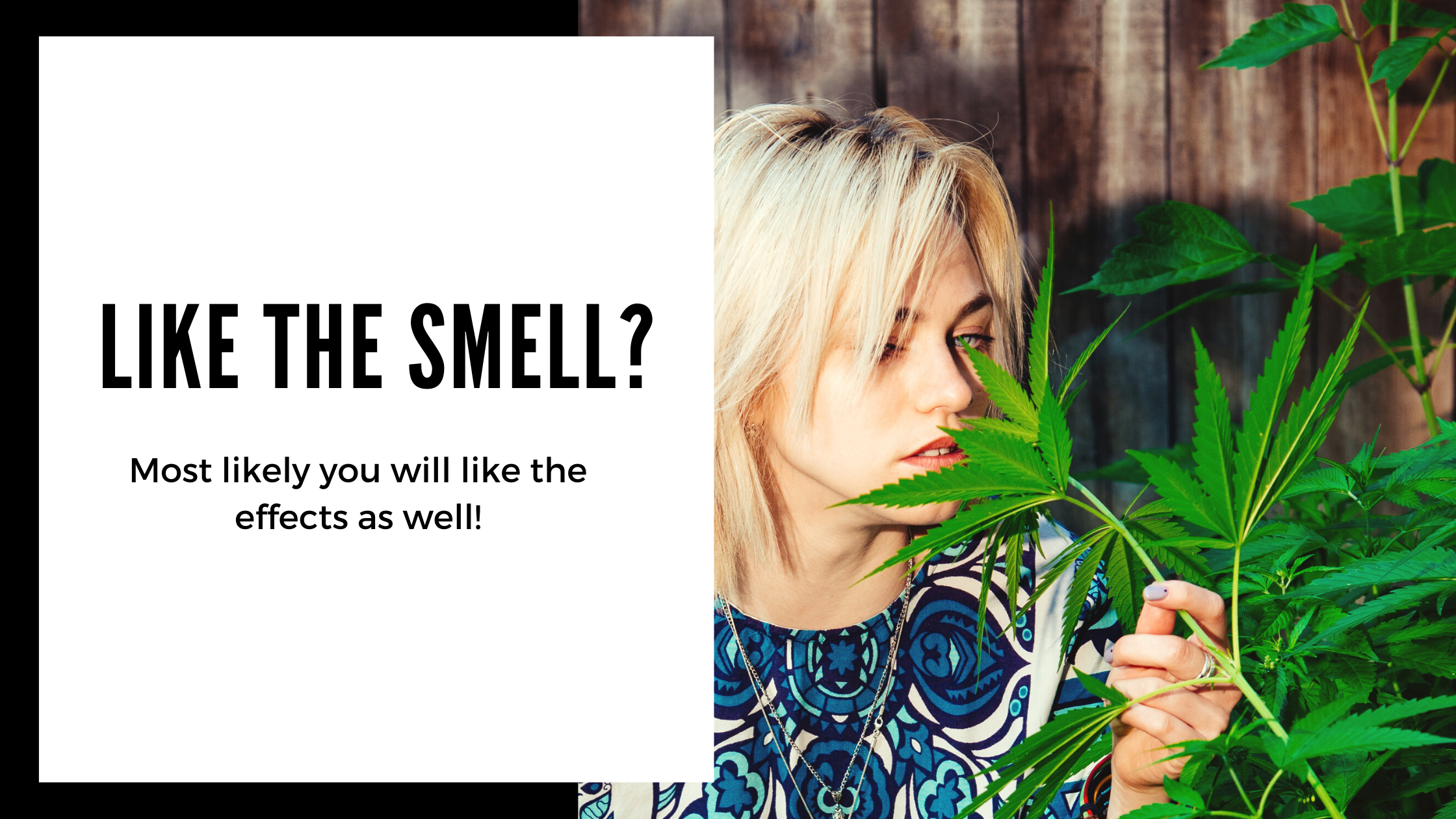 Terpenes, terpenoids (oxidized terpenes), and cannabinoids come hand in hand to produce a wide palette of various cannabis effects, that's why even mixing strains that when put together produce aromas you love – can be a great idea to find new and unique effects you might love. This might be a long shot, but the future of cannabis consumption will be much more classified according to actual strain unique terpene composition than it is now, might as well we start learning this skill early.
Start training your nose to find the perfect effects for you! ?
---
Interested in learning more? Here's a couple of related cannabis blog posts that might teach you more great things:
What to do if you get too high?
How to prepare for your first magic truffle trip?
What makes cannabis seeds high quality?
What is the difference between hemp oil and CBD oil?
Everything You Need to Know About Kanna